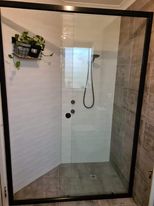 When you are thinking shower screens - think safety, quality and looks.
At Beards, we manufacture and fit your shower screen to your specifications.
Whether you are replacing your existing, dated glass shower screen or replacing your shower rail and curtain with a new shower screen – we can cater to any of your needs.
We can even work with your bathroom renovator to ensure your shower screen has a professional finish
Just another quality service from your team at Beards, we can also do glass sliding doors, glass repairs, glass windows and much more.