Cafe Blinds (Outdoor, Bistro, Patio)
Verandah, Bistro, Patio & Cafe Blinds That Keep You Cool & Look Great Too
Patio & Cafe Blinds are ideal for protecting outdoor entertaining areas from the elements when shade isn't an issue.
Cafe blinds allow outdoor areas to be used all year round, letting in the views while shutting out the wind and the rain.
Cafe blinds are individually made, all seams are heat welded, not stitched. Where zippers are fitted they are double stitched to be reinforced, with industrial grade PVC which can be colour coordinated to suit your décor.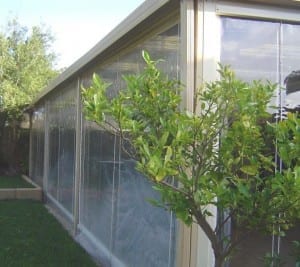 Verandah Blinds are similar to cafe blinds but are used when you require shade to your house and outdoor entertaining areas.
Blinds come in a vast array of colours and fabrics. Once installed, they can be rolled down for protection or completely rolled away when not required.
Available in 13 standard powder coated colors, they are long lasting and low maintenance.
For further information on our range of aluminium outdoor windows awnings, please do not hesitate to contact us.
We can provide expert advice on the best way to shelter your outdoor space. Our blinds are available in the same array of colours and fabrics.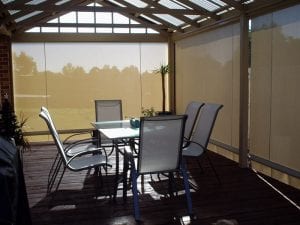 To find out more about our window blinds services, please do not hesitate to contact us for further information toady.