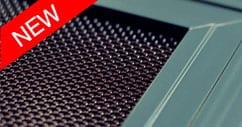 Forged from the unity of innovative contemporary design and state-of-the-art technology, SecureView highly evolved security represents a bold new direction in home security solutions.
SecureView's design embraces the very essence of elegant simplicity. Sleek, precise lines integrate seamlessly with your home to maximise your view. Australian made from the finest materials available, SecureView works smarter to offer you the ultimate peace of mind, without sacrificing your lifestyle.
Marine Grade Stainless Steel Mesh
SecureView security mesh is made from the finest T316 marine grade stainless steel, expertly woven in state-of-the-art facilities. Superior to its T304 commercial grade counterpart, T316 is selected for its superb strength, durability and resistance to corrosion. SecureView stainless steel security mesh is perfect for the Australian conditions and allows you to secure your home without losing the luxury of openness.
3M™ VHB™ Acrylic Adhesive
SecureView escapes tradition, free from mechanical fixings such as old fashioned screws and rivets. Instead SecureView employs 3M VHB high performance adhesive technology to create effortless strength. The acrylic chemistry of the 3M VHB adhesive delivers exceptional durability while its viscoelasticity provides superior energy absorbing properties that help to eliminate stress points.
3M VHB Acrylic Adhesives have been used by engineers throughout the world in bold commercial applications including bonding architectural panelling and even aircraft construction.
Innovative Keyway Fixing System
Our unique two-part wedge system has been designed to create the precise pressure required to activate the 3M VHB adhesive to its full potential. Both wedges are made from UV stabilised PVC to yield superior durability over time. Unlike screw-clamp or riveted systems, SecureView uses innovative technology that provides clear spacing between the stainless steel mesh and aluminium frame in order to eliminate the opportunity for galvanic corrosion, which occurs when dissimilar metals contact.
Sleek Aluminium Frame
SecureView's extruded aluminium frame system is crafted to deliver a lightweight solution without compromising on strength. The frame features gold accredited Interpon™ powdercoating that delivers a durable finish in a versatile range of colours including the latest Colorbond™ colours. Solid aluminium stakes are used to fortify each corner join, providing SecureView with steadfast strength.
Three-Point Locking System
As a statement of strength, SecureView hinged doors are characterised by our integrated three-point locking system as standard.
If you would like to know more about our decorative security door products, please do not hesitate to contact the team at Beards Security Doors and Window Awnings.